Colors and shades can be cruel mistresses, especially if they don't work with your complexion. Sure it's not rocket science, but it will take more than just sizing up outfits in front of the mirror to nail the perfect color coordination that best compliments your skin tone.
So where do we start? First, ditch the color wheel (it's of no use to us today). And delete those saved bookmarks saved on your computer that you think are doing you a favor by labeling you with a season (seriously?) what we really want is to determine your skin type, and use it to best judge the core colors in your wardrobe
There are two types of men's complexion to take note of and their subcategories: Firstly it is the Differentiated where there is a significant difference in color tones b tween skin and hair.
High Differentiation
When the hair color is very dark and the skin tone is fair and light, we would consider it high differentiated. Or even light gray hair with olive or tan skin tones are another example.
Medium Differentiation:
The skin tone and hair color are differentiated but not extensive. Examples are olive or tan skin tone with dark hair; Light gray hair against a ruddy skin complexion; Medium brown hair and tan skin undertone.
For some inspiration, let's look two ex-James Bond actors, Pierce Brosnan, an example of a man with highly differentiated complexion; and Sean Connery, having a medium differentiated men's complexion.
Color coordination and men's complexion of either differentiated types makes it an easy task. This is because the contrasting skin and hair colors allow the men to enjoy a wider range of differentiated colors between their clothing and yet still bring out their facial focal point.
Choosing colors between clothing that are muted would hide the men's face behind the clothes or even blend the facial skin tone into the clothing. These concepts would fail to heighten the men's face.
The second category of men's complexion is Subdued: very similar color tones between skin and hair
Examples are medium brown hair and dark beige skin tones; light brown and olive skin undertone.
There are quite a few people falling into this category and have difficulty color coordinating their clothes. The art of color coordination and men's complexion of such nature is to keep the color tones earthy, and always AVOID big contrasting color combinations like black and white.
What happens when contrasting colors clothes are chosen? They will overwhelm the men's complexion with the effect of making them look pale and inconspicuous against the clothes color.
A good example is a picture showing Larry King's wrong choice of tie that overwhelmed his subdued complexion (light colored hair and light face).
Gene Hackman's choice of both dark color shades, without any contrast, for his jacket and shirt brightens up his subdued complexion.
The aim is to choose colors that can warm up the men's complexion on the face. Do not use colors that give the man a wash-out look.
Focusing on blending colors with similar subdued tones helps to give this warming effect.
Its sub-category is the Light and Bright:
As its name suggests, this category belongs to men with light and bright colored skin tones and hair color.
Few examples of light and bright with a strong gold overtone are Russian president, Putin, and Brad Pitt because of their blond hair.
The same color combination should apply similar to subdued complexion, but this sub-group is able to take up warmer shades of gray and blue.
Color coordination and men's complexion that are light, bright with blond hair can accept tinge of gold, yellow, rusts, and shades of brown in their clothing to accentuate the focus on their face.
As mentioned above, following the color of the eye is also a resort of color strategy.
It would work especially well for the subdued complexion men to add on accessories to accentuate the face.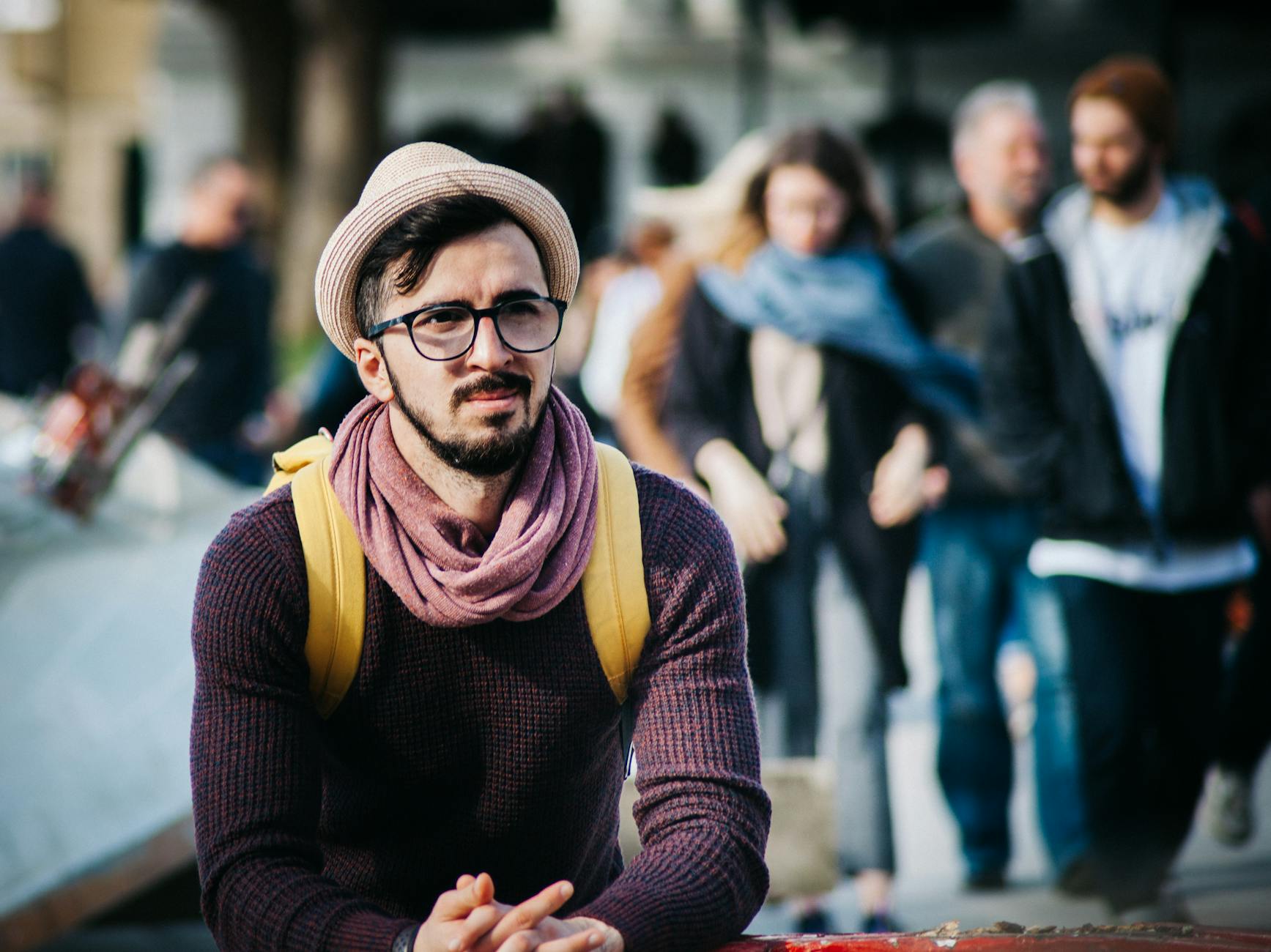 African or Indian Ethnic Groups
This group possesses a high to medium differentiated skin color. Putting almost all light shades of color against their face can still bring attention to their face because of the contrast created.
So color coordination and men's complexion among high contrasting African or Indian ethnic groups can be very versatile as long as they choose clothing color contrasting to their skin tone.
Best choice of contrast coloring is, of course, white. So it would never go wrong to wear white-color-based shirts. Their choice of blue shade is very wide. There is no worry on a matching blue shade.
Medium differentiation in this group would generally fall upon those with lighter brown or tan skin tones. They will fare better with a lesser intensity of color contrast.
A safe choice of color for dress shirts will be light or medium blue. Golden shades, yellow, and light brown shades can present a nice blend against their complexion too.
Wearing the right colors is just as important in an outfit as finding the perfect fit. Colors can either make you look tasteless and boring or cool and confident. In fact, the line between colors and personality has been found to be so thin, that psychologists can almost predict your character through the colors you wear. And we don't want to be too predictable, right?
The good news is that color coordination doesn't have to be too sophisticated. As a rule of thumb, the closer the colors are to each other in shade, the easier they are to coordinate. For example, matching a navy blue shirt with a black tie is a good, simple coordination that works perfectly. But try coordinating a yellow-green shirt and a purple tie and you have yourself an epic fail.