When we talk about dressing like a gentleman, most guys imagine themselves in a designer suit and an expensive Rolex watch. Sure we can blame the internet entirely for this shallow calculation, but we are the internet. Dressing like a gentleman is not all about suits and ties, but rather achieving a perfect mix of class and style for that extra glow. Believe me, it's not as hard as it sounds.
If you have read the Gentleman's Gazette, then you probably have the basics on how to be a classy gentleman by demonstrating self-confidence, etiquette and body language. But then again none of that matters if you can't groom yourself right. In spite of what you may have heard, first impressions matter – because they tend to stick. In this article, we will help you become the ultimate gentleman by giving you a step by step guide to picking your wardrobe carefully.
Embrace your personal style
From the words of Richard Eberhart, style is the perfection of a point of view. In this sense, style is a totally subjective word. It's not about following fashion, but rather being unique in your own way. You want to be dressed for your character. So think about how you would like others to see you. Evaluating your lifestyle would be a good place to start. If you are a college student, it makes no sense dressing like an English gentleman when attending your lectures.
The kind of activities you engage in regularly could also help you decide what to go for. Generally, there are no fixed rules to grooming like a gentleman. If you have a quiet, stubborn, no-nonsense persona, then it's ok not to have T-shirts in your closet; and if you're an outgoing, hype, Kanye West kind of guy, then sticking to those casual jeans and some black boots makes perfect sense. The key is to let your dress code accentuate your charisma. Just exercise a little restraint to ensure you don't overdo it.
Fitting clothes and colors
How you dress often creates certain optical illusions to the people around you. For example, striped clothes may make you appear taller or shorter (depending on the alignment). In the same way, fitting clothes may give the illusion that you are thinner. In fashion, the perfect body does not exist; there is something for everybody. The trick is to create certain illusions to hide and highlight specific body parts, again depending on the occasion or social group. Buying clothes that complement both your body physique and theme of the occasion will go a long way to projecting that gentleman look.
Having picked the right sized clothes, it's now time to flatter your appearance with colors and patterns. Keep in mind that colors echo on your skin tone. Psychologists also say that the colors you wear, to some extent, determine your mood. If you can blend good quality clothes with the right size and flattering colors, then you're already a gentleman in the making.
Shoes! Shoes! Shoes!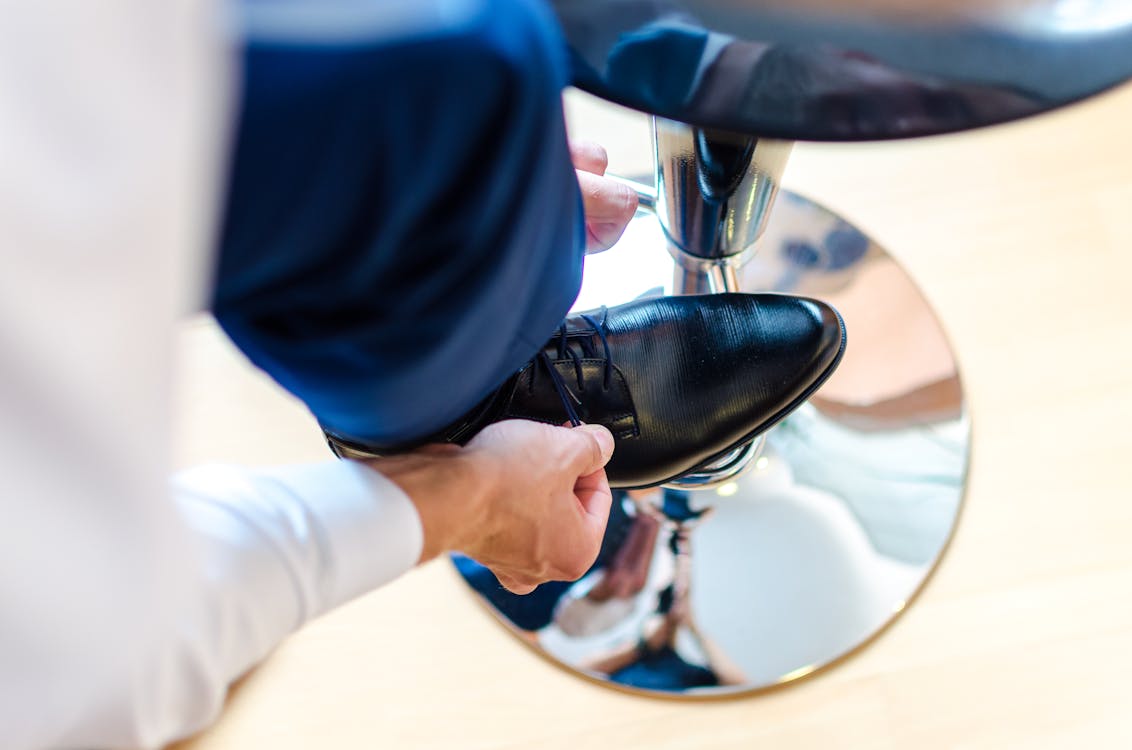 A well-groomed man, you may have noticed, is particularly intensive in his shoes. To an English gentleman, the shinier the better; and to the Hiphop community… Well, let's just say you don't want to mess with a black man's Jordans. Ideally, formal occasions demand black formal shoes; and in the spirit of being a classic gentleman, stay away from formal shoes with a block or too-sharp toe. For your casual events, sneakers would be more appropriate to wear. However, avoid wearing sneakers too often, unless you want to look like a 16-year old. If you are looking to strike a balance between formal and casual, desert boots would be a perfect choice.
Overwhelming with the details
Even with all these grooming ideas, there is still a big difference between how different gentlemen are perceived by others. It all lies in the final touches; the details. Every man has a signature look. To claim yours, you need to start with the basics. Maintaining your hygiene is the primary step. Get a nice soap, and if you don't mind, some hair products too: and whatever you do, don't shave your beard completely. I repeat, don't shave your beard completely. A beard is essential to the classic modern gentleman. Besides, women love it! Just make sure you keep it tidy.
You also want to get a nice cologne and use it to emphasize your signature look. This will allow the people around you to associate a certain scent with your sense of style.
Accessorize
Accessories stress on your grooming details. If you're going for a classic look, get a fascinating combination in your socks and watch's wristband. Think about Ryan Gosling's dress code (and if you don't know who Ryan Gosling is, just make a quick Google search. Seriously, just do it). If you want to include glasses in your panache, be sure to match the frame to the size of your face. You don't want to walk around looking like Peter Griffith from Family Guy. Again, be clever when choosing your jewelry. If you have to wear chains, rings or bracelets, avoid going overboard. Whether you're going for an official look or an urban Hiphop flair, it will always be the accessories which bring the outfit home.